"Keep Up with the
Future of Patent Information Today"
Patent Information Users Group (PIUG)
2005 Annual Conference
A Summary by Glen Kotapish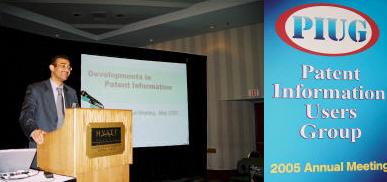 The PIUG Annual Conference, held May 21-26, 2005, in Arlington, Virginia, focused on "The Future of Patent Information – Tools and Techniques for Adding Value." Conference speakers and forums covered subjects such as how effective management of intellectual property information can increase a company's competitive edge; adding value to patent data and patent search reports; discerning competitive intelligence from patent information; and the paperless and other initiatives at the United States Patent & Trademark Office (USPTO). Speakers and attendees included employees of patent offices, research firms, pharmaceutical companies and law firms from around the world. Panel discussions covered a variety of topics and gave ample opportunities for questions, suggestions, and feedback between government agency representatives, patent researchers and vendors. The conference also highlighted issues regarding effective research techniques, analysis, and interpretation of both patent and non-patent intellectual property information. A complete list of meeting topics and speakers is provided below.
TRADESHOW & TRADING IDEAS
The event also included a trade show for patent search service providers and vendors of value-added patent research, analysis, and management software tools. The tradeshow provided an opportunity for patent information research professionals to learn more about new tools being offered by vendors and for vendors to hear suggestions and feedback from their users. Sponsors and exhibitors had the opportunity to share reviews of their products and services in special segments off the tradeshow floor between speaker sessions. The product review segments were a new feature at this year's conference. A complete list of sponsors and exhibitors is provided below.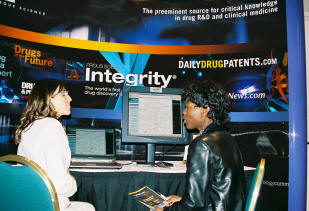 TOUR OF THE TOWN, NETWORKING, & A REWARDING TIME

This year's event included a tour of the USPTO's new Alexandria-based Carlyle Campus, covering their state-of-the-art public search facility and electronic & print technical libraries.  A networking cocktail hour and dinner, hosted by CAS (Chemical Abstracts Service), was held at The Chart House restaurant in the "Old Town" section of Alexandria, Virginia. A reception and dinner at the Ronald Regan Building & International Trade Center, hosted by Thomson Scientific, also included the presentation of the 2005 IPI (International Patent Information) Award.  This year's IPI Award winner is Ms. Edlyn Simmons of Proctor & Gamble.  Ms. Simmons received the award for the work she has done to improve the quality of patent information in the field of chemistry.  Please see www.ipi-award.com for more information on the IPI Award.
A PATENTLY AMUSING PLAYOFF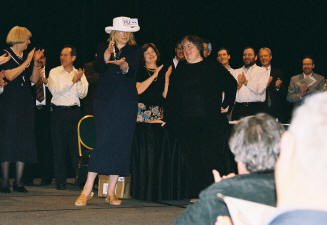 "The Solid Gold Cadillac," a play performed by the IFFI Players during an ice cream social provided a time to take patent information a little less seriously. The play's theme featured a parody of events that took place at a hypothetical large information products and services company.  In order to provide a balanced view of the inner and outer workings of a large corporation the IFFI Players included PIUG members from both the patent information user and provider communities.
"ATTEND" THE 2005 CONFERENCE VIA DVD VIDEO & MAKE PLANS TO ATTEND NEXT YEAR
Incase you could not attend this year, DVD videos of the 2005 conference can be ordered from the PIUG online store website, www.shop.piug.org. Please look for changes to the PIUG's online store website address in the near future. Keep up with the future of patent information and attend next year's PIUG Annual Conference, to be held May 20-25, 2006, in Minneapolis, Minnesota.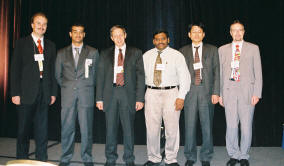 Author bio: Glen Kotapish is a patent research professional and founder of www.PlanetPatent.com.  He is president of the Inventors Network of the Capital Area, www.dcinventors.org, and a member of NAPP, www.napp.org, and IPO, www.ipo.org.
PROGRAM OVERVIEW OF THE 2005 PIUG ANNUAL CONFERENCE
WORKSHOPS AND SESSIONS
WORKSHOPS
Sunday May 21, 2005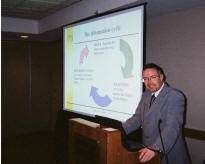 Stephen Adams Workshop – Statistics 101 – Making Sense of Patent Analysis
Speaker:  Stephen Adams
Questel-Orbit Workshop – FAMPAT: The Invention at the Heart of the Family,
Speaker: Elliott Linder
Sunday May 22nd 2005
Micropatent Workshop – Wide IP Management & Analysis in 2005 and Beyond
Thomson-Dialog Workshop – Searching Chemical Prior Art on Dialog using DialogLink 5.0
Speaker: Ron Kaminecki
CAS Workshop – Structure Searching in CAS Databases
Speaker: John Zabilski
Fiz Karlsruhe Workshop – Structure Searching Derwent WPI using STN Express
Speaker: Robert Austin
PIUG Business Meeting
SESSIONS
Monday May 23, 2005
THE USPTO GOES PAPERLESS – Session Chairs: Ginger DeMille and Martin Goffman
Keynote Address: The USPTO Goes Paperless: Update and Initiatives
Speaker: Howard N. Goldberg, USPTO Patent Examining Group Director, Tech Center 2800
The USPTO Goes Paperless:  Legalizing the Electrifying of the Patent Process
Speaker: Jay P. Lucas, USPTO
The USPTO Goes Paperless: Examining Patents in Today's Electronic Environment – How New Tools Have Changed Patent Examination
Speaker: Wynn W. Coggins, USPTO
The USPTO Goes Paperless: A Practitioner's Perspective
Speaker: Carl Oppedahl, Oppedahl & Larson LLP
POST PROCESSING TOOLS, TECHNIQUES, AND PHILOSOPHIES – Session Chair: Ruth Umfleet
Adding Value to Search Results at 3M
Speakers: John D. Arenivear and Carol E. Bachmann, 3M
Shepardize a Patent: A Post Processing Example
Speaker: Richard A. Matula, Kenyon & Kenyon
Microsoft Excel Techniques to Extend Your Capabilities When Working with Patent Data
Speakers: Dan Phelps (speaker) and Dave Kemp, Eastman Kodak Company
Monday May 24, 2005
CURRENT AND FUTURE TRENDS IN PATENT ANALYSIS – Session Chair: Tony Arleth
Patent Analysis Based on Molecular Considerations
Speaker: Steve Boyer, IBM Life Sciences Group
Text Mining in Scientific Literature, Implications for Patent Analysis
Speaker: William Hayes, Biogen-Idec
Tech Mining: Useful Intelligence from Patents and Publications
Speaker: Alan Porter, Georgia Tech/Search Technology, Inc.
Use of Metacrawlers to Extract Patent Information Directly from Patent Offices
Speaker: Daniel Vinsonneau, founder of VTDIM
Panel Discussion: Where are We Headed and How to Get There?
Moderator: Nancy Lambert
Wednesday May 25, 2005
HOT TOPICS – Session chair: Edlyn Simmons
Full Text – Spinning Gold Out of Straw!
Speaker: Willem-Geert Lagematt, Lexis Nexis Univentio
Technical Disclosures: Searching for Defensive Publications
Speaker: Henry H. Murray, Exxon Mobil
PatCom – The Association of Commercial Patent Information Providers
Speaker: Willem-Geert Lagemaat
What's New at EPO (European Patent Office)
Speaker: Dr. Nigel Clarke, EPO
News on the Reform of the International Patent Classification
Speaker: Mikhail Makarov, WIPO
UPDATES FROM PATENT OFFICES
Patent Information from the Middle East
Speaker: Mr. Samer A. Pharaon, Abu-Ghazaleh Legal Services
Developments in the Patent Situation in India
Speaker: Dr. Marudai Balasubramanian, Pfizer Inc.
Developments in WIPO Intellectual Property Digital Library and Traditional Knowledge Databases
Speaker: Dr. Mikhail Makarov, WIPO, Geneva
Developments in Japanese Patent Information from the NCIPI and JPO
Speaker: Mr. Nobuyuki Tanaka, NCIPI, Japan
Patent Information from the Eurasian Patent Office
Speakers: Dr. Khabibullo Fayazov and Dr. Petr Dzegelenok, Eurasian Patent Office, Moscow,
Thursday, May 26, 2005
WORKSHOPS
Derwent Workshop – Enhancing Productivity Via Integrated Solutions
Speakers: Bob Stembride, Don Walter, Denise Jenkinson
STN Patent Forum
TRADESHOW EXHIBITORS
Note: * Indicates sponsorship of the PIUG 2005 Annual Conference
BizInt Solutions*
http://www.bizcharts.com/
Chemical Abstracts Service
http://www.cas.org/
Elsevier MDL*
http://www.mdl.com/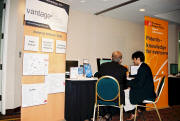 European Patent Office*
http://www.european-patent-office.org/index.en.php
FIZ Karlsruhe*
http://www.fiz-karlsruhe.de/
Gene IT *
http://www.gene-it.com/
IFI Claims*
http://www.ificlaims.com/
IP.com*
www.ip.com
Korea Institute of Patent Information*
http://eng.kipris.or.kr/
LexisNexis Univentio*
http://www.univentio.com/
McElroy Translations*
http://www.mcelroytranslation.com/
Minesoft*
http://www.minesoft.com/
MicroPatent*
www.micropatent.com
OmniViz*
http://www.omniviz.com/
Paterra*
http://www.paterra.com/
Prous Science*
http://integrity.prous.com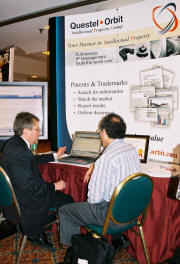 Questel-Orbit*
www.questel.orbit.com
Rusch Consulting Group*
http://mms.inpi.fr
Search Technology, Inc./VantagePoint*
http://www.thevantagepoint.com/
Technology & Patent Research International*
www.tprinternationl.com
Temis*
http://www.temis-group.com/
Thomson Dialog*
www.dialog.com
Thomson Scientific*
www.thomsonscientific.com
WIPS Global *
http://www.wipsglobal.com
Wolters Kluwer Health
http://www.wkhealth.com/
Wisdomain*
http://www.wisdomain.com/index.htm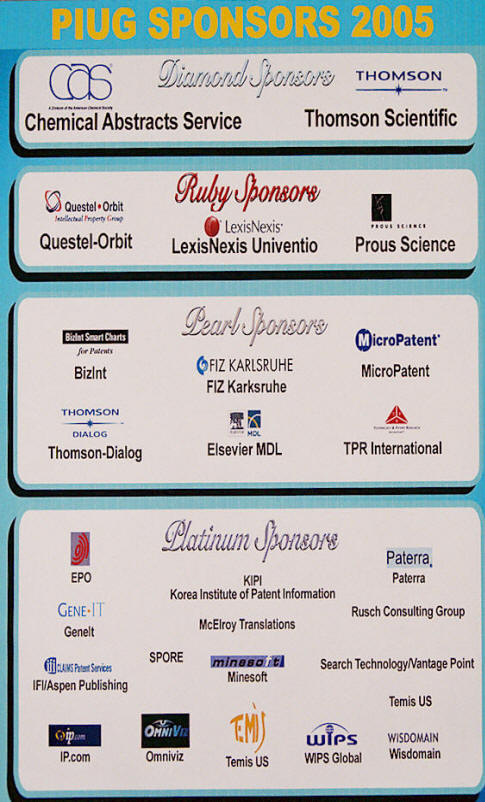 Copyright © 2005 Glen Kotapish