Highlights of the Patent Information Users Group 2004 Annual Conference
An International Conference for Patent Information
Worldwide Patent Information: Back to Basics
by Glen Kotapish
INFORMATION FOR INNOVATION
In 1899, the Wright Brothers asked the Smithsonian Institution for all the information they had on flight. After a quick search on a Friday afternoon, according to conference speaker Steven Adams, the Smithsonian provided them with the technical papers and patents of just over half a dozen aviation pioneers. Today, there are reams of information to sift through for anyone working on an invention in any field.
FIND THE RIGHT NEEDLE IN A "HAYSTACK" OF NEEDLES
Conference speaker Willem-Geert Lagemaat, CEO of patent information company Univentio, compared the challenge of finding pertinent patent information using today's patent databases and other resources to "finding the right needle in a stack of needles." Fortunately, the Patent Information Users Group (PIUG) is dedicated to making this task easier. PIUG's goal is to foster education and innovation in the field of patent research and analysis.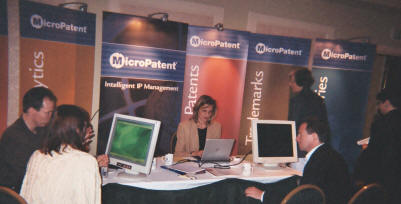 AN EXCHANGE OF IDEAS & INFORMATION
PIUG met for their annual conference in May, 2004 in Baltimore, Maryland. Corporate and independent patent research professionals, patent office officials, and patent information vendors gave seminars on current trends and innovations in intellectual property and patent research. The conference also included workshops by many commercial patent information vendors and value-added patent services companies.  Ask the Experts sessions facilitated the trading of ideas between patent information vendors and end-users. A networking event at Baltimore's Camden Yards baseball stadium featured the Baltimore Oriole's mascot as a host along with great food.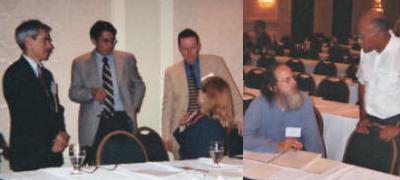 STAY AHEAD OF THE GAME
Attending a PIUG conference is a must for those who want to stay on top of the patent strategy and patent information game. The theme for the next PIUG conference in 2005 is "The Future of Patent Information." Visit the www.piug.org website for more information on future conferences and archived resources.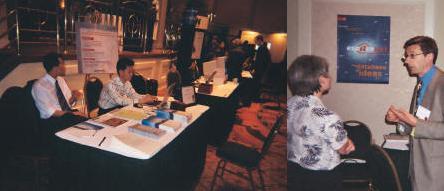 TOPICS AND THEMES OF THE PIUG 2004 ANNUAL CONFERENCE
The following topics and themes were covered at the conference.
Analyzing patent data
Emerging patent search technologies
Esp@cenet and Open Patent Services resources
Fee-based patent information resources
Free patent information resources
Gaps in patent information resources
INPADOC recent changes
Internet patent resources and cost-saving techniques
Japanese patent classification systems and databases
Korean Institute of Patent Information resources
Quality and consistency of patent family information
Recommending the most appropriate type of patent search to a client
Russian & former countries of the Soviet Union patent information resources
Strategies for getting the most from patent data
Trends in the Central and South American intellectual property world
Trends in the Japanese intellectual property world
Understanding a client's patent search needs
United States Patent & Trademark Office (USPTO) web-based free resources
USPTO's 21st Century Plan and harmonization plans
USPTO's planned outsourcing of patent searches
EXHIBITORS AT THE PIUG 2004 ANNUAL CONFERENCE
The following companies had exhibits at the PIUG 2004 Annual Conference.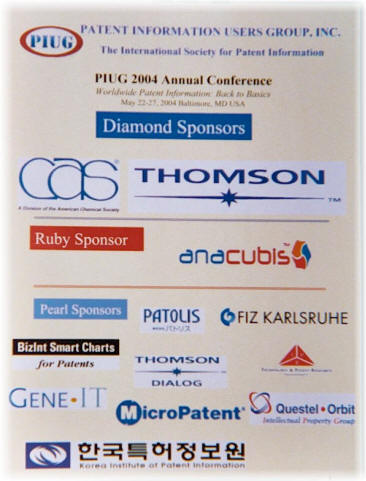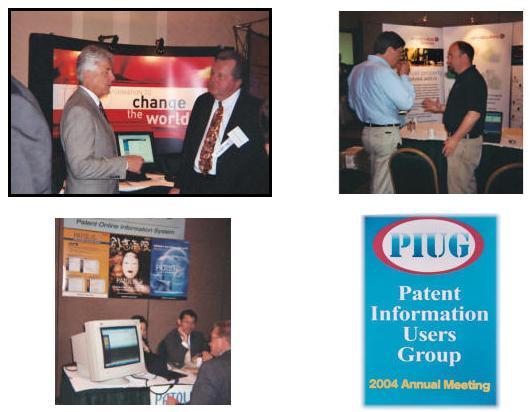 Glen Kotapish is a professional patent searcher.  He specializes in electronic, mechanical, and aerospace searches and is founder of www.PlanetPatent.com.  He is also a consultant for companies developing patent search engines and software.  Glen can be reached at searchpatents@aol.com.
Copyright © 2004 Glen Kotapish